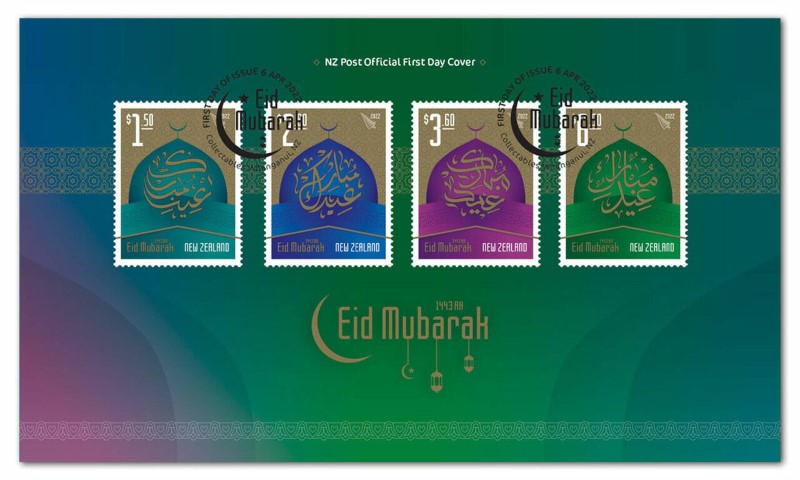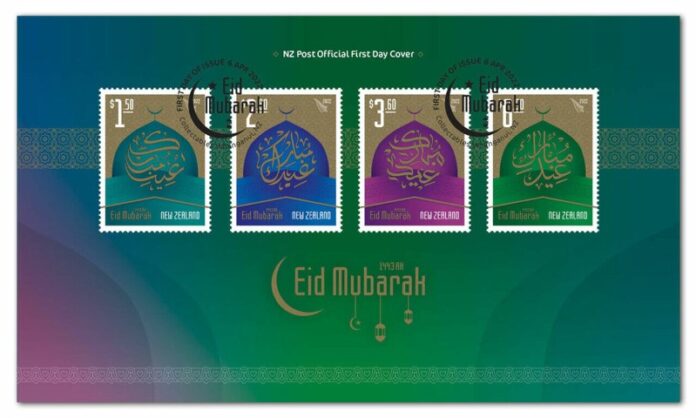 البريد النيوزيلاني يصدر بطاقة تذكارية للأعياد الخاصة بالمسلمين
أصدر بريد نيوزيلاندا في السادس من ابريل الحالي بطاقة تذكارية للأعياد 1443 هجرية تزامنا مع الشهر الفضيل وعيد الفطر المبارك لتهنئة الجالية الإسلامية وتعد هذه المرة الأولى لهذه التهنئة تعبيرا عن انفتاح نيوزيلاندا على مختلف الثقافات ، وهي من تصميم كريس جونز Chris Jones وتحتوي على أربعة طوابع بمقاس التخريم 14¼ × 14½ بفئات 1.5/2.8/3.6/6.5 دولار نيوزلاندي، ومقاس البطاقة 15×9 سم كما صدرت الطوابع في أفرخ من 25 طابعاً. جدير بالذكر أن الطوابع الاربعة يحتوي كل منهم على عبارة "عيد مبارك" بخط مختلف لكل طابع والخط العربي من تصميم الخطاط الباكستاني محمد وقاص وزوجته سميرة وقاص.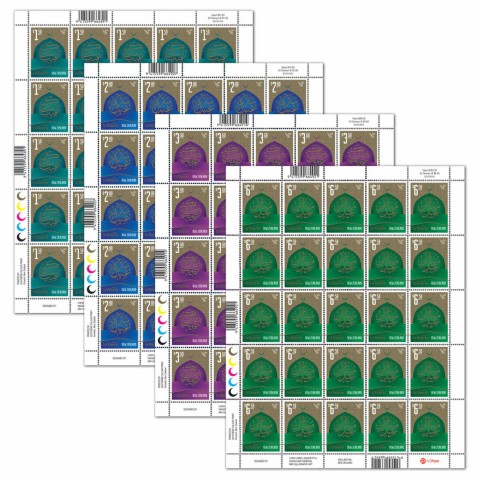 NZ Post's latest stamp release not only celebrates Eid al-Fitr, the world's most popular Muslim festival but acknowledges Aotearoa New Zealand's diverse communities.
Featuring Arabic calligraphy over the silhouette of a mosque, as well as the Islamic year 1443 AH, the stamps celebrate Eid al-Fitr. The issue is titled 'Eid Mubarak', meaning 'Eid Blessings'.
Eid al-Fitr marks the end of Ramadan, the Muslim holy month of fasting, and is the first of the two official holidays celebrated in the Muslim community around the globe.
They are also the first Islamic art stamps to be issued by NZ Post.
Designed by Arabic calligraphy artists Muhammad Waqas and his wife Sameera Waqas, the bold metallic gold stamps are available now for pre-order – with a release date of 6 April.
لمزيد من المواضيع المشابهة علي المقتني العربي برجاء متابعة الرابط التالي:
طابع بريد بمناسبة أعياد المسلمين 2023
سلمى لاغرلوف.. السويد تكرمها بعملة والعالم بطابع بريدي
نيوزيلاندا تصدر أول طابع بريد إسلامي 2022